The European Indoor Mölkky Championship will be held in France for the first time from 1 to 3 March 2024.
It is organised by the Club eud' Mölkky  in Saint-Amand-les-Eaux.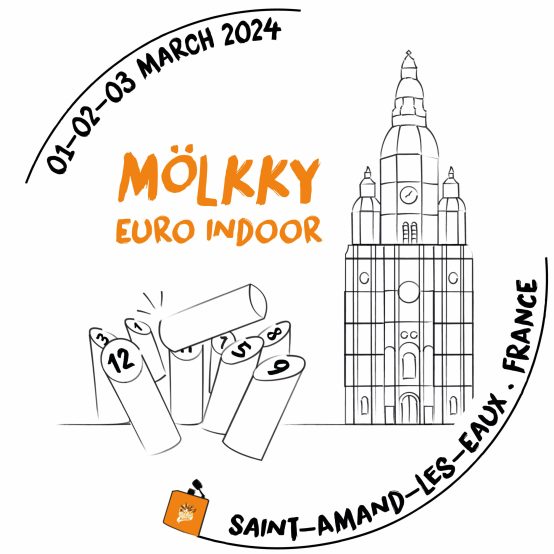 12 pm
Opening of the courts
Warm-up tournament
9 am
1st wave of the group phase
1 pm
2nd wave of the group phase
5 pm
Nations Trophy
Match night: international matches and local pizzas
8.30 am
Final round
6.30 pm
End of tournament
The 96 teams will be made up of 3 players and one possible substitute. The warm-up will feature 64 teams of two
The format will be based on a pool phase in 2 dry sets, before a final phase in 3 winning sets(or 2 winning sets in the consolation round).
The entire competition will be played with official TACTIC® games.
The current rules of the International Mölkky Federation will apply.
Entries (€50 per team) will be made online. They will be open to foreign teams in September, before being extended to French teams in November.
Entries for the warm-up (€15 per team) will be made online at the end of 2023.

Registration will be ruled by the IMO specifications, namely:
5% of teams: Wilcards for the organizing club, 5 teams
5% of teams: Wildcards for IMO, 5 teams
45% of teams: no French IMO Nations, 43 teams
45% of teams: French players coming from clubs belonging to the French Federation of Mölkky, 43 teams
TIMELINE
From Monday September 18th until Monday October 16th:
Registrations open to IMO nations outside the organizing country according to quotas via Google Forms
(the link will be sent on 18th of September by email with the terms and conditions).
Each federation is free to decide how they allocate their quota.
In order to prevent that the same country doesn't take all 45% of foreign spot, IMO applies a limit of 20% per Nation, i.e. 8 teams maximum.
Payment will be made by Bank Account and the team will be permanently registered once funds are received.
For information purposes, IMO countries concerned are:
Austria (already 1 team preregistered)

Belgium

Czech Republic (2 teams preregistered)

England

Estonia

Finland (3 teams preregistered)

Germany

Greece

Poland (7 teams preregistered)

Spain

Turkey
From October 16th:
The quota for IMO nations will be removed, and places will be free for IMO nations outside the organizing country.
French registrations will be effective in November.
PROCEDURES
If a team is made up of 2 French people with 1 or 2 foreigners, it is considered as a French team.
If a team is made up of 2 foreigners with a French player, it is an IMO team under the nationality of one of the 2 foreigners, unless the 2 are from the same country.
If a team is made up of 3 or 4 different nationalities outside France, the team chooses its country according to the quotas.
Examples:
Team of 2 Spanish with 1 German: Spanish team.
Team of 2 Spanish with 2 Germans: Spanish or German team (to be decided with the federations concerned).
Team of 2 French with 2 Belgians: French team.
Team made up of a Turkish, a Belgian and an Austrian: Turkish, Belgian or Austrian team (to be decided with the federations concerned).
The town of Saint-Amand-les-Eaux (population 15,000) is located 40 km from Lille in northern France, along the Belgian border.
The town is accessible by car and public transport: 

Motorway network linking Valenciennes, Lille, Paris and Brussels, so you can come by car or carpool.
Regional SNCF train station linking to Lille Flandres station in 25 minutes by train (itself 1 hour by TGV from Paris Charles de Gaulle airport).

Close to airports at 30 km (Lille-Lesquin), 90 km (Brussels-Charleroi) and 120 km (Brussels-Zaventem).
Saint-Amand-les-Eaux is a spa town in the heart of a regional nature park. Its heritage includes a 17th-century abbey tower listed as a French Historic Monument.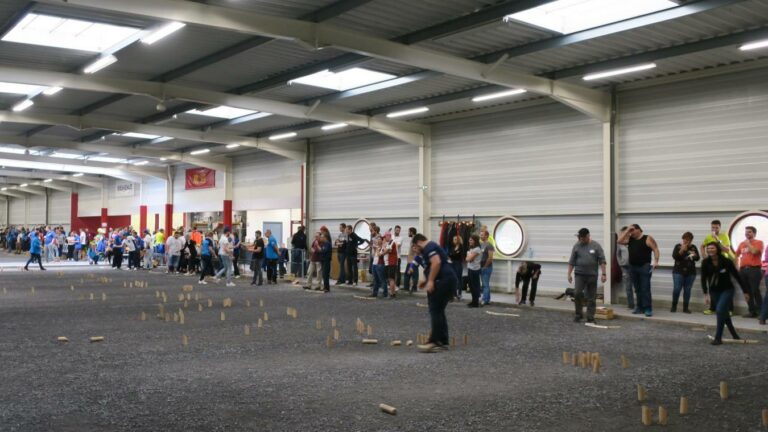 The boWLING GREEN
With a surface area of 5,490 m², the Saint-Amand-les-Eaux municipal bowling green has 32 gravel tracks.
Accessible to people with reduced mobility, this municipal facility can accommodate up to 350 people.
Address : Avenue Angèle Lecat 59230 Saint Amand les Eaux – France (50°27'10.1″N 3°26'41.6″E)